Alex Muench
Alex is a senior digital Product Designer at Doist based in Germany and working remotely.
---
How did you get started in your field?
It all started with studying communication design and my interest in technology, art and design. I've always been painting and sketching ever since I was a child, and designed logos and football kits. The release of the iPhone in 2007 inspired me to explore apps which brought me into the world of product design that I'm in right now. After lots of internships in advertising agencies and freelancing gigs as a graphic designer I developed a passion for solving problems within digital products.
I connected with people on Twitter and Product Hunt, and shared and worked on side projects. This really helped me learn how to think and become better at being a product designer. I found my current job via Twitter connections and am grateful to work at Doist.
What's your current role?
I'm a product designer at Doist working on the productivity apps Todoist (a task manager) and Twist (a team communication app). I'm working fully remotely with our international team on new product features and improvements for our apps. I'm also responsible for different areas like social shares by the design team, our iconography, the Android apps, the Web and desktop apps, Android & iOS widgets, accessibility, user testing and design specifications and processes. As part of the product team I'm involved in the product planning as well.
How do you describe your job to your friends & family?
The essence of my job is that I want to help people to be productive in their life and at work. As a product designer I'm creating these digital tools that support you on that mission. Be it your daily task planning or effective communication with your teammates at work.
What does your typical day look like?
Each month we work in small squads called "DOs", which means "Doist Objectives". This is how we call internal projects. They have the clearly defined goal to deliver one new feature or improvements. One designer, developers, marketers, supporters is the usual setup. We communicate in Twist channels from planning to iterating to discussing any implementation details.
My morning starts with a cup of coffee, music and catching up. My week looks a bit like this:
Monday: Our weekly design meeting. After that, lots of reading & replying to internal threads, reviewing and quality assurance (QA), giving feedback, iterating on one of our monthly design projects that we planned – mostly working on a new or improved product feature.
Tuesday: One main task that I scheduled for deep work time, a medium read & reply slot, a small reviewing and QA slot, a small feedback slot.
Wednesday: Similar to Tuesdays.
Thursday: Finishing one main task and giving feedback to other designers.
Friday: Exploration and learning day, wrapping up work for the week, more focus on researching & feedback, a medium "read & reply" slot
Monday morning the next week: I'm reviewing the last and plan the upcoming week. I schedule time slots when to work on what.
As you can see, working remotely requires lots of self management, discipline and organization. We have a lot of freedom as to where and when we work. We trust each other that we deliver and communicate transparently. I really appreciate that we live by our values at Doist.
Can you share your work process?
As I mentioned before, we plan one month ahead. During the last week of the month we consolidate our concrete plans with the projects our company wants to work on. When the new month begins the squad starts discussing ideas and usually this is where the design process begins. Product documents created by the product team help us understand the problems we want to solve. They guide us, but how we accomplish the goal and what we ship is mostly up to us, the squad. We have a product spec template, design principles and squad guidelines that help us all stay aligned.
Sometimes we have kickoff meetings but most of the times all discussions happen in written form in Twist. As a designer I'm sharing mockups and ideas and involve developers early on. Then there is a constant back and forth until we have solidified the end solution and made the necessary tradeoffs.
Usually in the middle or end of a cycle we request app copy feedback by our UX copy team, write or update help articles and think about how we want to release and market our new feature.
How did your role evolve?
I started as a junior designer and with time I was given more and more responsibilities over the years. I've now been with the company for almost six years. My main takeaways are that asking questions and not knowing something isn't a weakness but an important part of growing. Over-communicating, being decisive but open-minded is equally important. I'm quite an emotional person who had to learn that you should never feel personally attacked by feedback if it's solidified by objective arguments. Always consider both perspectives. Giving and receiving feedback is an opportunity to grow.
Where do you find your inspiration?
I'd say that it's important to be interested in trends and what is going on in the industry to stay on top of all things that are happening. When it comes to my work, I like to study apps that I like, observe patterns that seem to work well or are innovative. When I'm in a creative block it helps me to take breaks by going on a long walk.
What does your workspace setup look like?
It's a very simple desk with my laptop in the middle, my mouse, my headphones, my coffee, a water bottle, my phones, a few plants and currently a scented candle. For me it's important to have a clean and distraction free workplace. Ideally lots of natural light and a view outside the window should be close.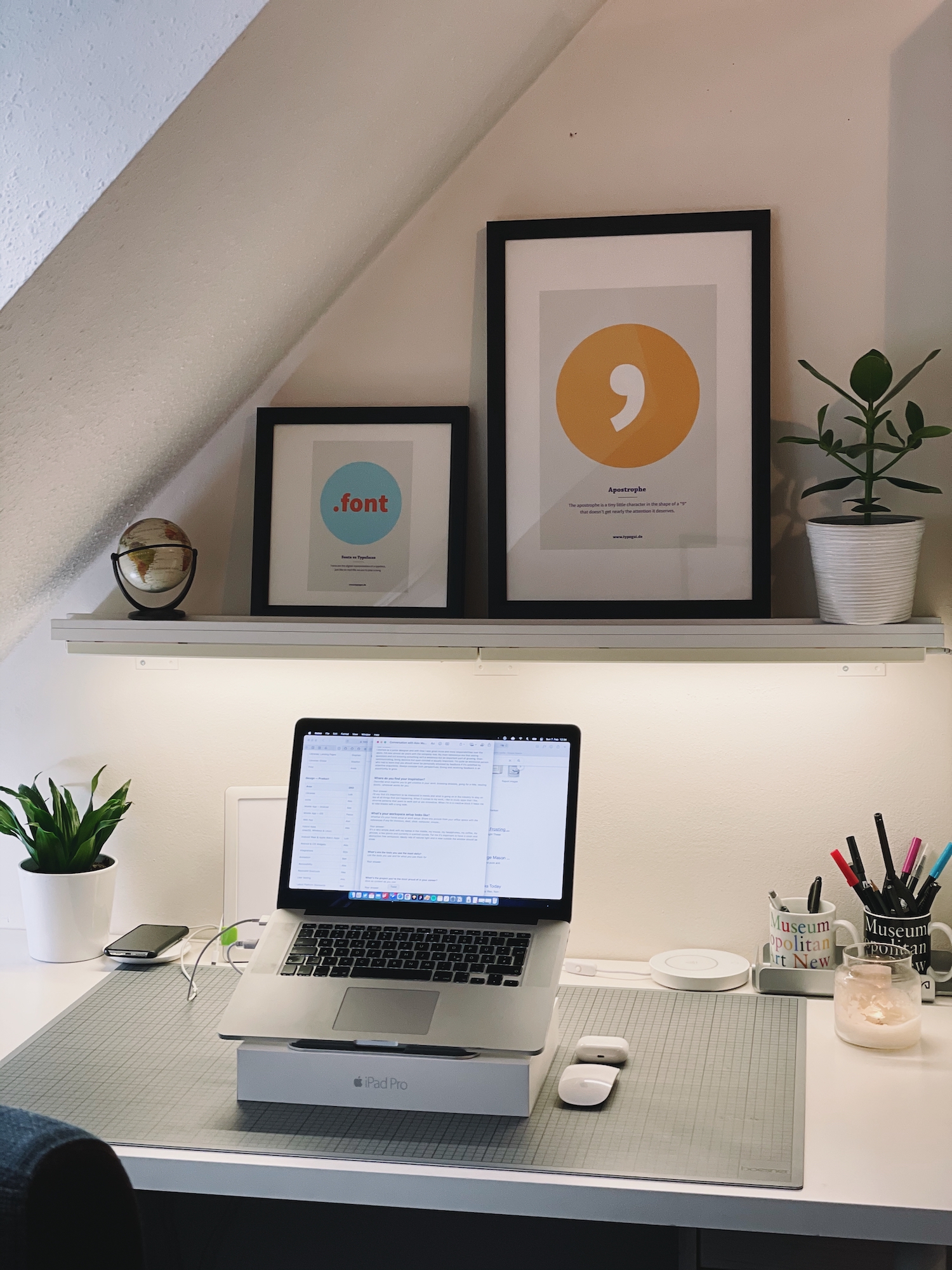 What are the tools you use the most daily?
Spotify and my AirPods – I can't work without music in the background.
My Notes app (Apple Notes) that lets me capture any personal or work related thoughts.
Todoist. to organize my week's tasks
CloudApp – This app lets me annotate screenshots, mostly for communication with developers
iTranslate on my Mac – whenever I need to find an English word I might have forgotten or a phrase to improve my communication with the team
Other tools like my iPad, Android phone, Surface that I use for testing our apps
Twitter to stay on top with the design community and share thoughts and resources regularly.
Patreon for occasional podcasts and Audible for audiobooks to unwind in the evenings
Here's my home screen: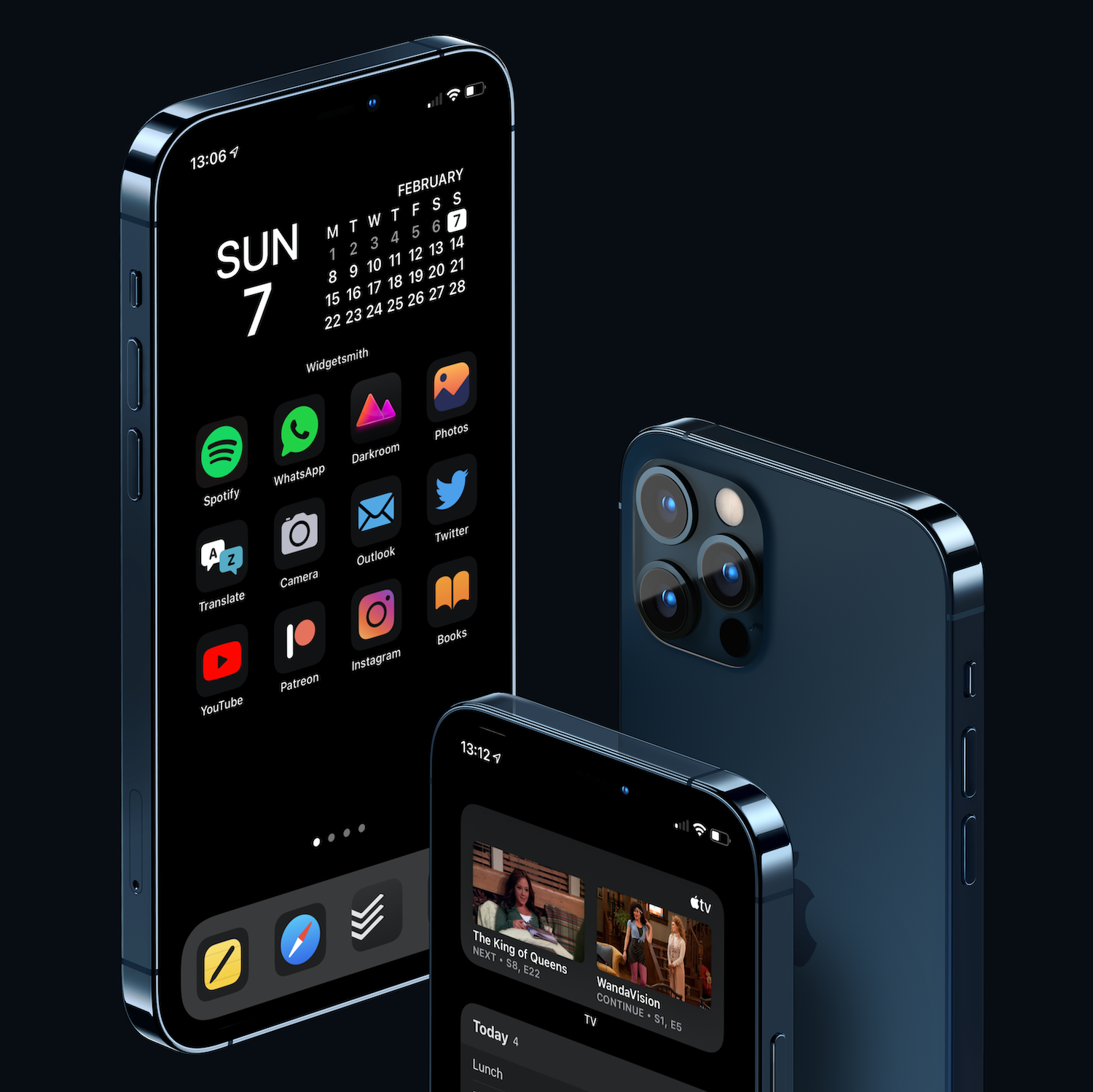 What's the project you're the most proud of in your career?
That's a tough question. I'd say that I'm proud that I was able to get into the field of product design and work on many exciting projects on a daily basis with inspiring people.
One of the biggest projects we launched was Twist. I was one of only a few designers in our company back in 2015 who had the privilege to design and bring an entirely new product to the market.
Next to @mentions, the "Close threads" feature is one of my favorites. You can close a thread with a conclusion once the discussion has been resolved.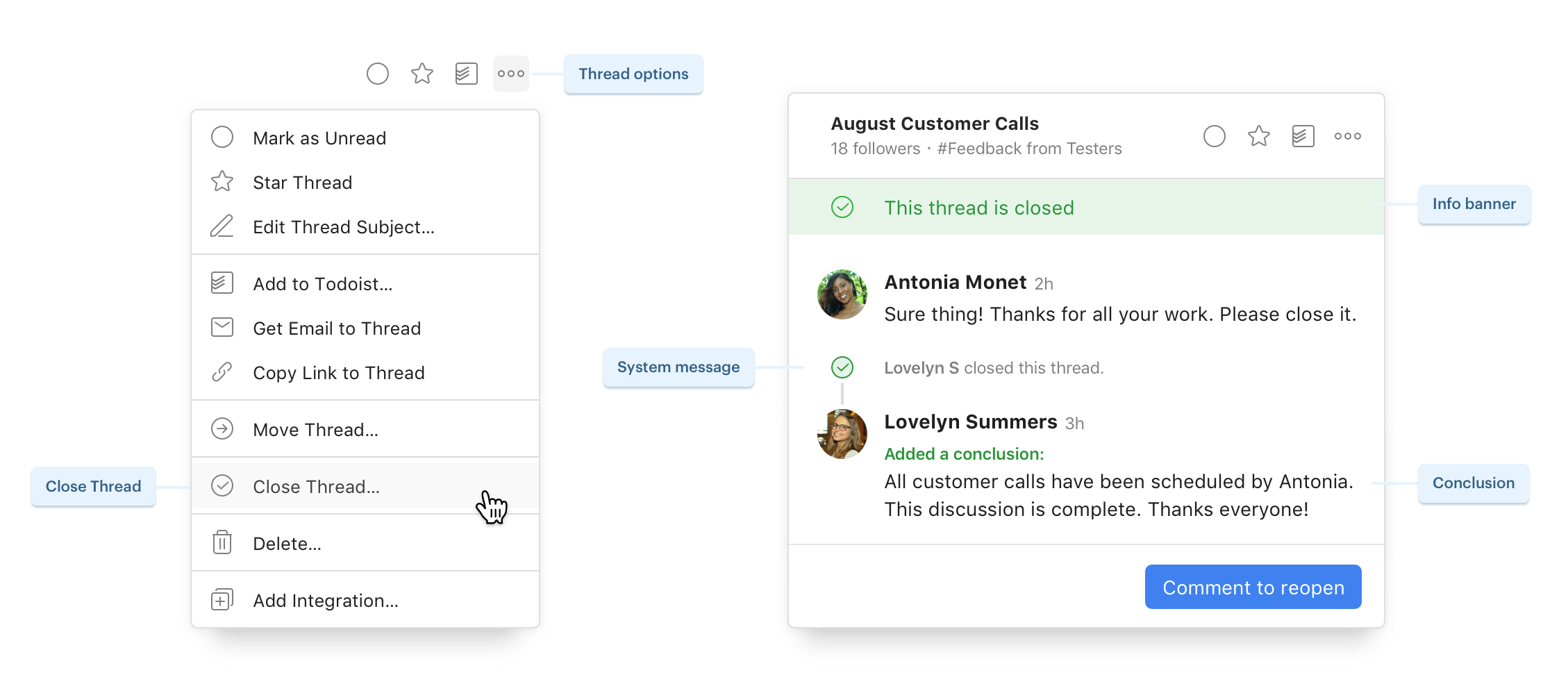 Can you share a failure that turned out as a learning experience?
In general I don't like the word failure. It has a negative and absolute connotation and is viewed as the opposite of success by a lot of people. Perspective matters. When you haven't met a goal how you imagined it in beginning it doesn't mean that you failed. To me it means that you learned a lesson that made you stronger.
For example, one of my side projects was "Short". A reading app that filters articles by reading time and lets you read 5 or 10 minute long articles that you saved prior. I ran out of bandwidth and resources so in the end I had to shut the project down. All the work I put into it wasn't for nothing though. All the experiences I gained there are extremely invaluable. From working remotely for the first time and communicating entirely in English to knowing how to best market your own app to producing a marketing video by myself — even though the project was shut down, nobody can take these experiences away from me.
How do you grow in your field?
There are lots of things you can do, and there's probably not one right way but many. First of all you need to identify your strengths and areas you want to improve. However, when you have a "weakness" it doesn't necessarily mean that you have to improve it. In my opinion you should focus on areas that are relevant to you and your job. For example, a product designer can do many things. You could start by studying a creative field like communication design. You could also educate yourself through online courses or finding a mentor if that fits your life and circumstances better. Or both. There are endless ways to break into the industry. Some essentials:
Learning design principles by reading books, attending conferences about design, management, psychology, ethics and accessibility.
Knowledge Sharing: Connecting with others in your field – building a network. You can learn a lot by simply sharing your experiences with others. They will do it, too. You widen your horizon.
Learning how to communicate ideas, present them, sell them
Getting familiar with your core work: As a product designer you should know common user experience and platform conventions, guidelines
Know how to give and receive feedback
Get comfortable working with people in a team and with clients
Find people, companies and products that inspire you.
What are the top 3 objects you can't live without?
Physical objects? Probably my laptop, my Apple Watch and my glasses. It's funny how motivating my watch is. Every day I try to fill all my activity rings. I turned off all notifications though since I don't want my life to be dictated by my devices.
What are your top 3 favorite applications?
Todoist, Apple Notes and Twitter.
Do you have current side projects?
Not really. I used to have many more when I was younger. Right now I can't put more energy into anything else than work. After work I have to disconnect and need my distance. Occasionally I give mentor sessions on Twitter. So if you need help with anything, feel free to message me and we can chat.
What you do when you're not in front of your computer?
Share your hobbies and the story behind them.
I love watching TV shows and movies, playing a little FIFA and reading non-fiction books. Mostly any that help me improve as a person like self-help books, or that allow me to learn or widen my horizon.
Recently I discovered the world of smart home and smart lights. So I'm currently building a nice lighting setup around my office.
When there is no lockdown I like to go swimming and traveling.
What advice would you give to your younger self?
Don't take everything too seriously and take a breath before you reply in a heated discussion.
You won't become a master from one day to another. Small realistic but ambitious steps are all you need to move forward.
Outro
Thank you for reading! If there's anything else you'd like to know, feel free to reach out on Twitter. You can also follow me on Dribbble or instagram. My personal homepage is alexmuench.co
← Read more interviews